New for 2022. Late Models are CRUSA Sanctioned!
.

Battle On The Bend $7500 to win May 26-28th
.

Fall Southern Showdown September 15-17
.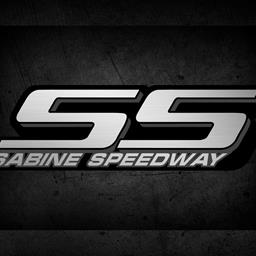 4/15/2022 - Sabine Speedway
Many, LA
Autism Awareness Benefit
Proceeds will be donated to Clara Springs for their special needs camp, "Camp Rain Man," and to Autism Services of Southwest Louisiana.
Full Event Information on MyRacePass
ACS Limited Mod's
Finish
Start
#
Competitor
Hometown
+/-
1
1
C7
Corey Neil Jr Bridge City, TX
Bridge City, TX
-
2
5
15
Tracy Denby Jr Vidor, TX
Vidor, TX
3
3
8
K9
Mark Underwood Jr Ruston, LA
Ruston, LA
5
4
7
15L
Levi Heflin Pitkin, LA
Pitkin, LA
3
5
6
955
Robert Metz Lumberton, TX
Lumberton, TX
1
6
11
K-1
Stephen Guidry Marksville, LA
Marksville, LA
5
7
2
15X
Dakoda Wyatt Provencal, LA
Provencal, LA
-5
8
9
9R
Barron Prince Haughton, LA
Haughton, LA
1
9
18
47CC
Conner Williams Sibley, LA
Sibley, LA
9
10
3
3GT
Bob Kellogg Natchitoches, LA
Natchitoches, LA
-7
11
14
12
T.J. Bond Calhoun, LA
Calhoun, LA
3
12
13
36J
Austin Storm
1
13
12
B99
Ben Leedy Jonesboro, LA
Jonesboro, LA
-1
14
19
E8
Ethan Bailes Elizabeth, LA
Elizabeth, LA
5
15
17
77M
Brandon Miller Breaux Bridge, LA
Breaux Bridge, LA
2
16
20
7R
Cody Robbins Mansfield, LA
Mansfield, LA
4
17
10
9J
Daren Jeoffroy Loraeuville, LA
Loraeuville, LA
-7
18 DNF
15
1T
Richard Tubbs Lufkin, TX
Lufkin, TX
-3
19 DNF
4
78H
RC Hagan Glenmora, LA
Glenmora, LA
-15
20 DNF
16
23
Coty Tupper Blanchard, LA
Blanchard, LA
-4
Finish
Start
#
Competitor
Hometown
+/-
1
2
K-1
Stephen Guidry Marksville, LA
Marksville, LA
1
2
1
36J
Austin Storm
-1
3
4
1T
Richard Tubbs Lufkin, TX
Lufkin, TX
1
4
5
77M
Brandon Miller Breaux Bridge, LA
Breaux Bridge, LA
1
5
11
E8
Ethan Bailes Elizabeth, LA
Elizabeth, LA
6
Top 5 transfer
6
3
466
Charlie Jones Forest Hill, LA
Forest Hill, LA
-3
7
8
78
Braylon Dusang Alexandria, LA
Alexandria, LA
1
DNS
7
75
Marcus Black Lumberton, TX
Lumberton, TX
-
DNS
12
19
Drennon Keen Frierson, LA
Frierson, LA
-
DNS
9
T18
Tiffany Rollins Ville Platte, LA
Ville Platte, LA
-
DNS
6
07R
Chad Rollins Pitkin, LA
Pitkin, LA
-
DNS
10
3D
David Edwards Natchitoches, LA
Natchitoches, LA
-
Finish
Start
#
Competitor
Hometown
+/-
1
1
B99
Ben Leedy Jonesboro, LA
Jonesboro, LA
-
2
7
12
T.J. Bond Calhoun, LA
Calhoun, LA
5
3
8
23
Coty Tupper Blanchard, LA
Blanchard, LA
5
4
11
47CC
Conner Williams Sibley, LA
Sibley, LA
7
5
6
7R
Cody Robbins Mansfield, LA
Mansfield, LA
1
Top 5 transfer
6
2
2B
Bryce Beard Ranger, TX
Ranger, TX
-4
7
4
1B
Brayden Beard Fredericksburg, TX
Fredericksburg, TX
-3
8
12
3:16
Conner Saucier Oakdale, LA
Oakdale, LA
4
DNS
3
7
Chad Morgan Bradley, AR
Bradley, AR
-
DNS
10
36
Colby Mewborn Texarkana, TX
Texarkana, TX
-
DNS
5
124
Wesley Bodie Leesville, LA
Leesville, LA
-
DNS
9
88
Joseph Shirley
-
Finish
Start
#
Competitor
Hometown
+/-
1
4
15X
Dakoda Wyatt Provencal, LA
Provencal, LA
3
2
6
3GT
Bob Kellogg Natchitoches, LA
Natchitoches, LA
4
3
5
36J
Austin Storm
2
4
9
9J
Daren Jeoffroy Loraeuville, LA
Loraeuville, LA
5
5
8
7
Chad Morgan Bradley, AR
Bradley, AR
3
6
2
7R
Cody Robbins Mansfield, LA
Mansfield, LA
-4
7
1
78
Braylon Dusang Alexandria, LA
Alexandria, LA
-6
DNS
7
19
Drennon Keen Frierson, LA
Frierson, LA
-
DNS
3
3D
David Edwards Natchitoches, LA
Natchitoches, LA
-
Finish
Start
#
Competitor
Hometown
+/-
1
1
78H
RC Hagan Glenmora, LA
Glenmora, LA
-
2
3
15L
Levi Heflin Pitkin, LA
Pitkin, LA
1
3
8
955
Robert Metz Lumberton, TX
Lumberton, TX
5
4
4
1T
Richard Tubbs Lufkin, TX
Lufkin, TX
-
5
6
124
Wesley Bodie Leesville, LA
Leesville, LA
1
6
2
75
Marcus Black Lumberton, TX
Lumberton, TX
-4
7
7
23
Coty Tupper Blanchard, LA
Blanchard, LA
-
8
5
T18
Tiffany Rollins Ville Platte, LA
Ville Platte, LA
-3
DNS
9
3:16
Conner Saucier Oakdale, LA
Oakdale, LA
-
Finish
Start
#
Competitor
Hometown
+/-
1
1
15
Tracy Denby Jr Vidor, TX
Vidor, TX
-
2
3
K9
Mark Underwood Jr Ruston, LA
Ruston, LA
1
3
2
K-1
Stephen Guidry Marksville, LA
Marksville, LA
-1
4
6
466
Charlie Jones Forest Hill, LA
Forest Hill, LA
2
5
7
1B
Brayden Beard Fredericksburg, TX
Fredericksburg, TX
2
6
8
07R
Chad Rollins Pitkin, LA
Pitkin, LA
2
DNS
5
47CC
Conner Williams Sibley, LA
Sibley, LA
-
DNS
4
36
Colby Mewborn Texarkana, TX
Texarkana, TX
-
Finish
Start
#
Competitor
Hometown
+/-
1
6
C7
Corey Neil Jr Bridge City, TX
Bridge City, TX
5
2
1
9R
Barron Prince Haughton, LA
Haughton, LA
-1
3
3
2B
Bryce Beard Ranger, TX
Ranger, TX
-
4
8
B99
Ben Leedy Jonesboro, LA
Jonesboro, LA
4
5
7
77M
Brandon Miller Breaux Bridge, LA
Breaux Bridge, LA
2
6
5
12
T.J. Bond Calhoun, LA
Calhoun, LA
-1
DNS
2
88
Joseph Shirley
-
DNS
4
E8
Ethan Bailes Elizabeth, LA
Elizabeth, LA
-
Foy Motor's Crate Late Models
Finish
Start
#
Competitor
Hometown
+/-
1
4
97
Cade Dillard Robeline, LA
Robeline, LA
3
2
2
6D
Rick Duke Ball, LA
Ball, LA
-
3
1
6X
Rob Litton Alexandria, LA
Alexandria, LA
-2
4
6
18
Caleb Dillard Robeline, LA
Robeline, LA
2
5
7
B89
Dakota Smith Tullos, LA
Tullos, LA
2
6
13
15
Clayton Stuckey Shreveport, LA
Shreveport, LA
7
7
16
24
Garren Lindsey Keithville, LA
Keithville, LA
9
8
17
69
Stacy Veuleman Florien, LA
Florien, LA
9
9
14
28
Kristopher Shaw Ragley, LA
Ragley, LA
5
10 DNF
18
25
Robbie Starnes Baytown, TX
Baytown, TX
8
11 DNF
3
76B
Jerry Basco Flatwood, LA
Flatwood, LA
-8
12 DNF
5
51
Tyler Burnett Eros, LA
Eros, LA
-7
13 DNF
9
12P
Trent Parker Florien, LA
Florien, LA
-4
14 DNF
15
5Y
Robert Young Haughton, LA
Haughton, LA
1
15 DNF
20
39
Braeden Robinson Heflin, LA
Heflin, LA
5
16 DNF
12
81
Michael King Jr El Dorado, AR
El Dorado, AR
-4
17 DNF
11
7S
Brent Stewart Doyline, LA
Doyline, LA
-6
18 DNF
19
91
Mark Erb Midway, TX
Midway, TX
1
19 DNF
10
F9
Mark Powell Anacoco, LA
Anacoco, LA
-9
DNS
8
1
Kevin Sitton Baytown, TX
Baytown, TX
-
Finish
Start
#
Competitor
Hometown
+/-
1
1
69
Stacy Veuleman Florien, LA
Florien, LA
-
2
3
25
Robbie Starnes Baytown, TX
Baytown, TX
1
3
4
91
Mark Erb Midway, TX
Midway, TX
1
4
7
39
Braeden Robinson Heflin, LA
Heflin, LA
3
Top 4 transfer
5
8
2
Tim Eaves Jr Mooringsport, LA
Mooringsport, LA
3
6
9
38
Kris Shaw Ragley, LA
Ragley, LA
3
7
5
100
Bryan Cook Florien, LA
Florien, LA
-2
8
10
68B
Corey Basco Flatwoods, LA
Flatwoods, LA
2
DNS
2
21X
RYAN FRENCH Natchitoches, LA
Natchitoches, LA
-
DNS
6
9R
Barron Prince Haughton, LA
Haughton, LA
-
Finish
Start
#
Competitor
Hometown
+/-
1
1
76B
Jerry Basco Flatwood, LA
Flatwood, LA
-
2
2
18
Caleb Dillard Robeline, LA
Robeline, LA
-
3
4
1
Kevin Sitton Baytown, TX
Baytown, TX
1
4
3
F9
Mark Powell Anacoco, LA
Anacoco, LA
-1
5
7
15
Clayton Stuckey Shreveport, LA
Shreveport, LA
2
6
8
24
Garren Lindsey Keithville, LA
Keithville, LA
2
7
9
25
Robbie Starnes Baytown, TX
Baytown, TX
2
8
6
39
Braeden Robinson Heflin, LA
Heflin, LA
-2
DNS
5
68B
Corey Basco Flatwoods, LA
Flatwoods, LA
-
Finish
Start
#
Competitor
Hometown
+/-
1
1
97
Cade Dillard Robeline, LA
Robeline, LA
-
2
2
B89
Dakota Smith Tullos, LA
Tullos, LA
-
3
4
12P
Trent Parker Florien, LA
Florien, LA
1
4
3
7S
Brent Stewart Doyline, LA
Doyline, LA
-1
5
6
28
Kristopher Shaw Ragley, LA
Ragley, LA
1
6
8
69
Stacy Veuleman Florien, LA
Florien, LA
2
7
7
91
Mark Erb Midway, TX
Midway, TX
-
8
9
9R
Barron Prince Haughton, LA
Haughton, LA
1
9
5
2
Tim Eaves Jr Mooringsport, LA
Mooringsport, LA
-4
Finish
Start
#
Competitor
Hometown
+/-
1
2
6X
Rob Litton Alexandria, LA
Alexandria, LA
1
2
5
6D
Rick Duke Ball, LA
Ball, LA
3
3
8
51
Tyler Burnett Eros, LA
Eros, LA
5
4
3
81
Michael King Jr El Dorado, AR
El Dorado, AR
-1
5
4
5Y
Robert Young Haughton, LA
Haughton, LA
-1
6
6
21X
RYAN FRENCH Natchitoches, LA
Natchitoches, LA
-
7
7
100
Bryan Cook Florien, LA
Florien, LA
-
DNS
1
38
Kris Shaw Ragley, LA
Ragley, LA
-
BOM Bank Factory Stocks
Finish
Start
#
Competitor
Hometown
+/-
1
4
3
Rodney Howell Pineville, LA
Pineville, LA
3
2
8
88M
Joshua Martin Colfax, LA
Colfax, LA
6
3
16
27
Dalton Faulkner Cut and Shoot, TX
Cut and Shoot, TX
13
4
9
XXX
Shawn Graham Shreveport, LA
Shreveport, LA
5
5
12
C7
Victor Case Jonesboro, LA
Jonesboro, LA
7
6
17
51
Brandon Edwards Provencal, LA
Provencal, LA
11
7
15
20
Neil Kemp Mineral Springs, AR
Mineral Springs, AR
8
8
10
56
Craig Pursley New Waverly, TX
New Waverly, TX
2
9
11
99T
Jt Garland Cleveland, TX
Cleveland, TX
2
10
3
41
Dylan Elasko Huffman, TX
Huffman, TX
-7
11
13
1T
Jason Tiner Winona, TX
Winona, TX
2
12
18
14
Ryder Cantillo St. Amant, LA
St. Amant, LA
6
13
20
127B
Olon Holder IV Cleveland, TX
Cleveland, TX
7
14 DNF
7
234
CJ Howell Boyce, LA
Boyce, LA
-7
15 DNF
6
100+
ROSS COOK 2036 RATTAN ROAD FLORINE, LA
2036 RATTAN ROAD FLORINE, LA
-9
16 DNF
2
0
Mike Lavespere
-14
17 DNF
14
32
Jason Ford
-3
18 DNF
5
9
John Parker Jr Dry Prong, LA
Dry Prong, LA
-13
19 DNF
19
25
Gary Harvin Fouke, AR
Fouke, AR
-
DQ
1
J27
Scotty Case Marshall, TX
Marshall, TX
-
Finish
Start
#
Competitor
Hometown
+/-
1
1
99T
Jt Garland Cleveland, TX
Cleveland, TX
-
2
2
1T
Jason Tiner Winona, TX
Winona, TX
-
3
4
20
Neil Kemp Mineral Springs, AR
Mineral Springs, AR
1
4
5
51
Brandon Edwards Provencal, LA
Provencal, LA
1
5
3
25
Gary Harvin Fouke, AR
Fouke, AR
-2
Top 5 transfer
6
17
1*
Cameron Furrh Gladewater, TX
Gladewater, TX
11
7
11
77
Tyler Dubois Robeline, LA
Robeline, LA
4
8
13
65
Michael Turner Minden, LA
Minden, LA
5
9
9
50
Josh Ellender
-
10
6
7C
Chris Burrows Minden, LA
Minden, LA
-4
11
7
35S
JT Turner Minden, LA
Minden, LA
-4
12
8
44
Toby Airhart Annacoco, LA
Annacoco, LA
-4
13
19
10E
Matt Ebarb Bossier City, LA
Bossier City, LA
6
14
18
7L
Dewayne Rains Anacoco, LA
Anacoco, LA
4
15
12
5M
Michael Harlow Lake Charles, LA
Lake Charles, LA
-3
16
16
444X
Laken Hudnall Hardin, TX
Hardin, TX
-
17
15
L88
Logan Gordon W Monroe, LA
W Monroe, LA
-2
DNS
14
23B
Blake Griffin Leesville, LA
Leesville, LA
-
DNS
10
3J
Levi Heflin Pitkin, LA
Pitkin, LA
-
Finish
Start
#
Competitor
Hometown
+/-
1
1
C7
Victor Case Jonesboro, LA
Jonesboro, LA
-
2
6
32
Jason Ford
4
3
7
27
Dalton Faulkner Cut and Shoot, TX
Cut and Shoot, TX
4
4
5
14
Ryder Cantillo St. Amant, LA
St. Amant, LA
1
5
18
127B
Olon Holder IV Cleveland, TX
Cleveland, TX
13
Top 5 transfer
6
2
13X
Austin Hail Kilgore, TX
Kilgore, TX
-4
7
8
14B
Megan Ford Pitkin, LA
Pitkin, LA
1
8
3
25S
Justin Sells
-5
9
15
22
Thomas Mcneill Shepard, TX
Shepard, TX
6
10
12
M13
ROBERT BARBER Florien, LA
Florien, LA
2
11
4
004
Todd Fredieu Many, LA
Many, LA
-7
DNS
14
13
Colby Johnson Florien, LA
Florien, LA
-
DNS
16
30
Gary Morgan Sulphur, LA
Sulphur, LA
-
DNS
13
7K
Josh Feazell Huntington, TX
Huntington, TX
-
DNS
10
D27
Devon Kruithof Haughton, LA
Haughton, LA
-
DNS
11
18
William Isgitt
-
DNS
17
10W
Hunter Webb Pitkin, LA
Pitkin, LA
-
DNS
9
444
Travis Hudnall Liberty, TX
Liberty, TX
-
Finish
Start
#
Competitor
Hometown
+/-
1
9
J27
Scotty Case Marshall, TX
Marshall, TX
8
2
6
234
CJ Howell Boyce, LA
Boyce, LA
4
3
7
56
Craig Pursley New Waverly, TX
New Waverly, TX
4
4
4
32
Jason Ford
-
5
8
004
Todd Fredieu Many, LA
Many, LA
3
6
3
444
Travis Hudnall Liberty, TX
Liberty, TX
-3
7
1
5M
Michael Harlow Lake Charles, LA
Lake Charles, LA
-6
8
5
65
Michael Turner Minden, LA
Minden, LA
-3
9
10
13
Colby Johnson Florien, LA
Florien, LA
1
10
2
L88
Logan Gordon W Monroe, LA
W Monroe, LA
-8
Finish
Start
#
Competitor
Hometown
+/-
1
4
0
Mike Lavespere
3
2
7
3
Rodney Howell Pineville, LA
Pineville, LA
5
3
3
25
Gary Harvin Fouke, AR
Fouke, AR
-
4
6
20
Neil Kemp Mineral Springs, AR
Mineral Springs, AR
2
5
8
51
Brandon Edwards Provencal, LA
Provencal, LA
3
6
5
3J
Levi Heflin Pitkin, LA
Pitkin, LA
-1
7
9
D27
Devon Kruithof Haughton, LA
Haughton, LA
2
8
10
M13
ROBERT BARBER Florien, LA
Florien, LA
2
DNS
1
22
Thomas Mcneill Shepard, TX
Shepard, TX
-
DNS
2
444X
Laken Hudnall Hardin, TX
Hardin, TX
-
Finish
Start
#
Competitor
Hometown
+/-
1
3
100+
ROSS COOK 2036 RATTAN ROAD FLORINE, LA
2036 RATTAN ROAD FLORINE, LA
2
2
2
C7
Victor Case Jonesboro, LA
Jonesboro, LA
-
3
6
99T
Jt Garland Cleveland, TX
Cleveland, TX
3
4
1
14
Ryder Cantillo St. Amant, LA
St. Amant, LA
-3
5
5
27
Dalton Faulkner Cut and Shoot, TX
Cut and Shoot, TX
-
6
8
14B
Megan Ford Pitkin, LA
Pitkin, LA
2
7
9
77
Tyler Dubois Robeline, LA
Robeline, LA
2
8
7
23B
Blake Griffin Leesville, LA
Leesville, LA
-1
DNS
4
1*
Cameron Furrh Gladewater, TX
Gladewater, TX
-
Finish
Start
#
Competitor
Hometown
+/-
1
1
88M
Joshua Martin Colfax, LA
Colfax, LA
-
2
4
XXX
Shawn Graham Shreveport, LA
Shreveport, LA
2
3
3
25S
Justin Sells
-
4
7
1T
Jason Tiner Winona, TX
Winona, TX
3
5
5
44
Toby Airhart Annacoco, LA
Annacoco, LA
-
DNS
2
30
Gary Morgan Sulphur, LA
Sulphur, LA
-
DNS
9
127B
Olon Holder IV Cleveland, TX
Cleveland, TX
-
DNS
8
7L
Dewayne Rains Anacoco, LA
Anacoco, LA
-
DNS
6
10W
Hunter Webb Pitkin, LA
Pitkin, LA
-
Finish
Start
#
Competitor
Hometown
+/-
1
4
41
Dylan Elasko Huffman, TX
Huffman, TX
3
2
7
9
John Parker Jr Dry Prong, LA
Dry Prong, LA
5
3
1
13X
Austin Hail Kilgore, TX
Kilgore, TX
-2
4
3
7C
Chris Burrows Minden, LA
Minden, LA
-1
5
6
35S
JT Turner Minden, LA
Minden, LA
1
6
2
50
Josh Ellender
-4
7
8
18
William Isgitt
1
8
5
7K
Josh Feazell Huntington, TX
Huntington, TX
-3
DNS
9
10E
Matt Ebarb Bossier City, LA
Bossier City, LA
-
FWD
Finish
Start
#
Competitor
Hometown
+/-
1
4
25
Hunter Armstrong Blanchard, LA
Blanchard, LA
3
2
2
46
Jackson Gallagher Benton, LA
Benton, LA
-
3
3
7S
Steven Bevills Granbury, TX
Granbury, TX
-
4
6
0
Steve McEachern Minden, LA
Minden, LA
2
5
1
F5
Ben McDuff Keithville, LA
Keithville, LA
-4
6
8
43
Mark Pittaluga Anacoco, LA
Anacoco, LA
2
7
5
1X
Clay Gardner STAMPS, AR
STAMPS, AR
-2
8
7
11M
MICHELLE TEDDER Many, LA
Many, LA
-1
9
10
C23
Collin JONES Provencal, LA
Provencal, LA
1
DNS
12
10C
Lauren Cromer Texarkana, AR
Texarkana, AR
-
DNS
9
71K
Bryan Guice Sibley, LA
Sibley, LA
-
DNS
11
69
Cade Gardner STAMPS, AR
STAMPS, AR
-
Finish
Start
#
Competitor
Hometown
+/-
1
2
F5
Ben McDuff Keithville, LA
Keithville, LA
1
2
3
7S
Steven Bevills Granbury, TX
Granbury, TX
1
3
4
1X
Clay Gardner STAMPS, AR
STAMPS, AR
1
DNS
1
11M
MICHELLE TEDDER Many, LA
Many, LA
-
DNS
6
71K
Bryan Guice Sibley, LA
Sibley, LA
-
DNS
5
69
Cade Gardner STAMPS, AR
STAMPS, AR
-
All transfer
Finish
Start
#
Competitor
Hometown
+/-
1
2
46
Jackson Gallagher Benton, LA
Benton, LA
1
2
4
25
Hunter Armstrong Blanchard, LA
Blanchard, LA
2
3
1
0
Steve McEachern Minden, LA
Minden, LA
-2
4
5
43
Mark Pittaluga Anacoco, LA
Anacoco, LA
1
5
6
C23
Collin JONES Provencal, LA
Provencal, LA
1
DNS
3
10C
Lauren Cromer Texarkana, AR
Texarkana, AR
-
All transfer